Jurassic World: Dominion Dominates Fandom Wikis - The Loop
Play Sound
Captain Scarlet and the Mysterons

Production

Released by
ATV
Producers
Gerry Anderson
John Read
Reg Hill
Creators
Gerry Anderson
Sylvia Anderson

Directors
Desmond Saunders
Alan Perry
Leo Eaton
Ken Turner
Peter Anderson
Others
Music Director
Barry Gray
Special Effects
Derek Meddings

Details

Medium
Colour
Episodes
32
Duration
25 Minutes (less adverts)
Original Air Date
29th September 1969

Series Guide

Previous
Next
Thunderbirds
Joe 90

For the more recent re-tool, see New Captain Scarlet. For other uses, see Captain Scarlet and the Mysterons (Disambiguation).
"Captain Scarlet is indestructible - you are not. Remember this. Do not try to imitate him" - Colonel White
Captain Scarlet and the Mysterons was a British science-fiction television series, comprising 32 episodes (one series/season), originally broadcast on ITV during 1967–1968. It was the fifth Gerry Anderson show to be filmed in Supermarionation.
Plot synopsis
In the year 2068 A.D., a Zero-X mission has successfully reached and landed on Mars; its mission: to discover the source of strange signals that had been monitored on Earth. An MEV (Martian Exploration Vehicle) sets out to explore the surface, with its 3-man crew: Lieutenant Dean, Navigator Conway and mission commander Captain Black - a top officer of the worldwide peace-keeping armed force and security service known as Spectrum...
After much searching, they discover a mysterious complex owned by a race of unseen beings known as the Mysterons. Pleased to have company, they prepare to welcome their visitors, moving their scanning camera to get a better view. However, Black and his crewmates - mistaking the camera for a weapon - panic, believing they're about to be attacked! Black orders Dean to fire missiles at the complex, completely destroying it...
...or, is it? The alien metropolis slowly shimmers back into existence...and the now-hostile Mysterons ominously vow revenge for the crew's "act of aggression," threatening to destroy all life on Earth. Having discovered the process of "retro-metabolism" - an unearthly secret of reversing matter - they've demonstrated its use to recreate their city and restore it to its former self. Now, they will utilize it as their weapon against their enemies - re-creating any object or person, for their purposes!
The horror begins with Black himself - having given the destroy-order, he's singled out for punishment, as the Mysterons take control of him and send him back to Earth, as their primary agent and spy...
It now falls to Spectrum - under the command of Colonel White - to lead the fight against the Mysterons' ongoing "war of nerves." Headquartered aboard the flying aircraft carrier known as Cloudbase, Spectrum uses all its available resources to thwart the Mysterons' threats, including amazing vehicles and equipment - as well as a team of agents whose identities are protected by code-names drawn from the colours of the rainbow.
One of Spectrum's top agents is Captain Scarlet - once under Mysteron control himself, he managed to break free and gained the ability of retro-metabolism, making him virtually indestructible, becoming Spectrum's greatest asset in the fight against the Mysterons.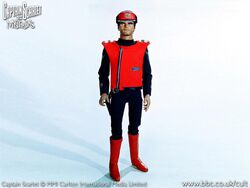 Description
Unlike Anderson's previous series (Supercar, Fireball XL5, Stingray and Thunderbirds), Captain Scarlet presented as a more straightforward drama - with a darker, more mature plot and storyline and a far-more-terrifying threat, in the form of the formless Mysterons. This has caused it to be interpreted as an allegory for the Cold War, with Soviet-style communism having its analogue in the Mysterons.

Main Characters
Regular Equipment
Episodes
Other Media Sorties
Film
Captain Scarlet Vs The Mysterons

was a compilation of the episodes The Mysterons, Winged Assassin, Seek And Destroy, and Attack On Cloudbase.

Revenge Of The Mysterons From Mars

was a compilation of the installments Shadow of Fear, Lunarville 7, Crater 101 and Dangerous Rendezvous, with the second, third, and fourth of those comprising the "Lunarville Trilogy" of episodes.
Audio Books
Behind the Scenes Info
Microgramma Bold Extended font was used for the programme's episode titles; Microgramma Medium Extended was used for the credits.
Unlike its immediate predecessor, Thunderbirds, Captain Scarlet returned to the half-hour episode format typlcal of most Supermarionation series before and after it (Joe 90, The Secret Service).
The series also featured next-generation Supermarionation puppets, created with more human-proportioned bodies and heads. But the solenoids used to project the voices through the puppets were not only smaller but also lighter. This rendered the puppets more difficult to control, and hence, the puppets were kept almost motionless.
Spectrum's international crew included more prominent female (notably the Angels) and black characters (notably Lieutenant Green and Melody Angel); this last was a first for an Anderson production, and something Anderson himself had wanted to do since Supercar.

Richard Conway

and

Stephen J. Mattick

, who wrote the episode "Operation Time," had previously worked on Thunderbirds as special effects technicians.
Francis Matthews provided the voice of Captain Scarlet in imitation of Cary Grant, long considered one of the models for the Supermarionation puppet, as was Matthews himself. Executive Producer Gerry Anderson "came close to moving heaven and Earth" to get Matthews to just that end, because of Matthews's uncanny ability to imitate Grant; before Captain Scarlet, Matthews had been either unintestered or unavailable. During the Captain Scarlet recording sessions, Anderson convinced Matthews to divide his time between them and onstage appearances in Noel Coward's play Private Lives.
Donald Gray, who died in 1978, provided the voice of Colonel White as well as those of both the Mysterons and Captain Black as a Mysteron agent. For both of the latter two voices, he recorded their respective lines normally, using recording equipment that had been accelerated; upon playback at normal speed, his voice sounded deeper and slower, and hence more ominous and threatening. Having fallen victim to typecasting in live-action programmes, he was relying upon his work in what were considered children's programmes to keep earning a living.
Captain Scarlet is unique among Supermarionation series for having multiple variant opening and closing titles sequences.

At least four opening variants are known:

"The finger is on the trigger..." (unique to the first episode)
"The Mysterons. Sworn enemies of Earth..." (most common)
"One man. A man who is different...."
On some episodes, the title sequence ends with Colonel White's voice admonishing viewers: "Captain Scarlet is indestructible - you are not. Remember this. Do not try to imitate him"

Two different closing themes were used: one a mostly instrumental version of the theme with Barry Gray intoning the name "Captain Scarlet;" and later episodes featured a version with lyrics performed by the musical group The Spectrum. (Their name was a coincidence; their formation had actually predated the beginning of production on the TV series.)
Remake
The series was remade by Anderson in 2005 with CGI technology, called "Hypermarionation," as New Captain Scarlet.
Captain Scarlet and the Mysterons