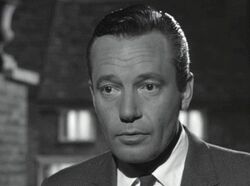 Charles "Bud" Tingwell was an Australian Actor (1923-2009) TV, Film & Radio Actor Appearing in over 100 movies. He became the youngest radio announcer in Australia, then at 18, he joined the Australian airforce, becoming a pilot officer and flew Blenheims, Mosquito's, Hurricanes and Spitfires.
His first film was in 1946, 'Smithy', and in 1952 found himself opposite James Mason and Richard Burton in 'The Desert rats'. He moved to England in 1956, appearing as Alan Dawson in 'Emergency Ward 10' as well as Inspector Craddock in the Margaret Rutherford Miss Marple films, In 1965 he was cast in the the Gerry Anderson movie 'Thunderbirds Are Go' as Dr. Tony Grant and also did uncredited voice overs for the second series of that TV show, as well as credited voice overs for Captain Scarlet and the Mysterons (most notably Captain Brown and Doctor Fawn ). He had been recommended to the Andersons by fellow Australian Ray Barrett (John Tracy in 'Thunderbirds'). He later went on to appear in Catweazle, Homicide (Australian TV), and a recurring role as Henry O'Rourke in Neighbours.
Tingwell passed away in 2009.