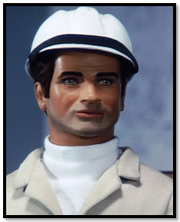 Charlie Hansen was the control operator at Rig 15. He appears in the Captain Scarlet and the Mysterons episode Fire at Rig 15.
He was voiced by Gary Files.
Trivia
It appears in The Secret Service as a Foreign Frogman and George Grey, it was later rewigged with grey hair and a moustache and was used as General Brompton and Professor Soames.