Dangerous Cargo is the 27th produced and 23rd broadcast episode of British television series Fireball XL5.
After surveying the derelict planet Pharos, the crew of XL5 return to Space City to be told to take some Vesivium Nine, the greatest explosive in the Universe, back to the planet and destroy it.
When Steve and Professor Matic set their explosive in one of the many mines on the planet, they discover that the entrance has been blocked by the Subterrains. Robert the Robot in unable to clear the entrance, so Steve uses one of the capsules of his ray gun to clear their path. The crew are just able to leave the planet before it explodes.
Regular Cast
Edit
Guest Cast
Edit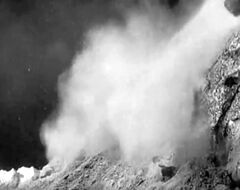 During one of the landslide scenes, the brush that is being used to sweep the debris down the slope is visible in the top-right corner.
Community content is available under
CC-BY-SA
unless otherwise noted.