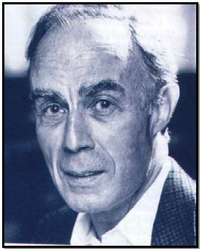 David Graham (born 11 July 1925) is a talented British voice-actor, noted for his work with Gerry Anderson in the Supermarionation series produced by the latter during the 1960s.
Prior to his work in Supercar - where he featured as eccentric scientist-inventor Dr Beaker, mischievous pet monkey Mitch, pilot Bill Gibson and Masterspy's sidekick Zarin - Graham was a regular in the Anderson puppet-Western Four Feather Falls. He also appeared in front of the cameras, in the 1960 film Crossroads To Crime, whose cast included George Murcell, who also joined Supercar's voice cast. (See below)
Graham continued to provide both regular- and guest-character voices for Supercar successors Fireball XL5, Stingray and The Secret Service. He is arguably best-known for his work in Thunderbirds, where he voiced no less than four of the series' regular characters - most famously the reformed safecracker-turned-loyal-butler, Aloysius Parker.
Voicework
Main article: Category:Characters Voiced by David Graham
Graham voiced well over 100 characters throughout his work on various Gerry Anderson series, including the following regular and recurring characters: