This article is currently a stub.

Please help by
adding content
. Thank you!
For other uses of Doppelgänger see Doppelganger (Disambiguation)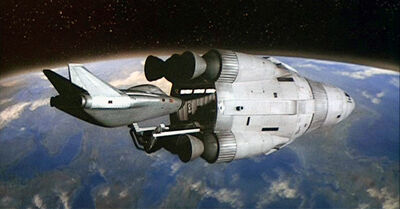 Doppelgänger aka Journey To The Far Side Of The Sun was released in 1969 with a screenplay by Gerry & Sylvia Anderson and Donald James. It was directed by Robert Parrish.
Plot
One hundred years in the future two astronauts are sent to uncover the secrets of a duplicate Earth on the other side of the Sun. When their journey ends three weeks early with a crash landing they must embark on a life-or-death mission to determine whether they have arrived back home or are on the strange mirror world.
Cast of Characters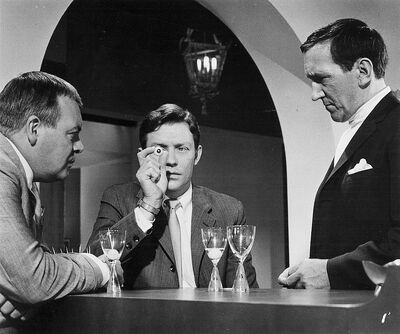 Dr. John Kane - Ian Hendry
Colonel Glenn Ross - Roy Thinnes
Jason Webb - Patrick Wymark
Sharon Ross - Lynn Loring
Lise Hartman - Loni Van Friedl
Paulo Landi - Franco Derosa
Mark Neuman - George Sewell
David Poulson - Edward Bishop
Dr. Pontini - Philip Madoc
Dr. Beauville - Vladek Sheybal
Monsieur Clavel - George Mikell
Dr. Kurt Hassler - Herbert Lom
Flight Director - Keith Alexander
Pam Kirby - Norma Ronald

Dr. Gordon - Cy Grant
Control Technician - Jeremy Wilkin
Monitoring Station Technician - Basil Moss
Ulan-Bator Air/Sea Rescue - Anthony Chinn
Control Technician (Medical 1) - Peter Burton
Control Technician (Medical 2) - Nicholas Courtney
1st Male Nurse - Jon Kelley
Nurse - Annette Kerr
1st Gantry Technician - Maxwell Craig
1st Party Guest - Alan Harris
1st Security Sergeant - Edward Cast
2nd Security Sergeant - Raymond Barry
London EUROSEC Representative - John Stone
Paris EUROSEC Representative - Arnold Diamond
Bonn EUROSEC Representative - Laurence Herder
Rome EUROSEC Representative - Bill Meilen
The Hague EUROSEC Representative - Peter Jesson
Brussels EUROSEC Representative - Colin Vancao
Photographer - Mike Lucas
2nd Party Guest - Victor Harrington
1st Party Waiter - Joe the Waiter
2nd Party Waiter - Cyril Kent
Control Technician Peter Van Dissel
2nd Gantry Technician - Maurice Connor
3rd Gantry Technician - Royston Farrell
2nd Male Nurse - Michael Wolf
Doppelganger Crew Chief - Alan Haywood
Security Guard - Martin King
Other Technicians - James Donnelly, Constantine Gregory and Michael Mundell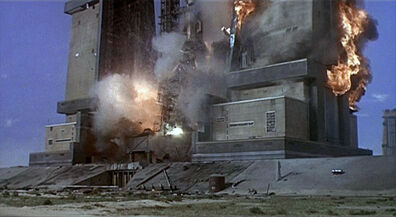 Running time
101 mins approx.
External Links
Community content is available under
CC-BY-SA
unless otherwise noted.