E.S.P is the 6th broadcast and the 15th produced episode of British television series UFO.
John Croxley has E.S.P (extra sensory perception) and his powers are so pronounced that he can feel the future. When his wife Stella is killed by a UFO crash, he is determined to get revenge. He lures Straker and Freeman to his house, intent on killing them. They are defenceless, because he can anticipate their every thought and movement. Soon the truth becomes clear, his mind has been taken over by the aliens from another world. Only Paul Foster can save the other two SHADO men now!

Main Cast
Edit
Guest Cast
Edit
Hardware Used
Edit
Although Douglas Wilmer's character is named Dr. Ward in both the scrip and on the episode credits, his name appers as Dr A Brünner on the name plaque outside his office.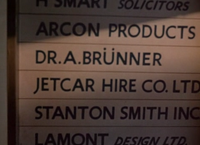 Community content is available under
CC-BY-SA
unless otherwise noted.