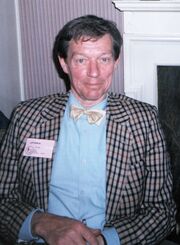 George Victor Bishop (11 June 1932 - 8 June 2005), known professionally as Ed Bishop was an American actor based in the UK who appeared in many of Gerry Anderson's productions.
He was the voice of Captain Blue in Captain Scarlet and the Mysterons, portrayed Colonel Ed Straker in UFO and appeared in the feature film Doppleganger. He also provided voiceover work for other Anderson productions, including narrating the 1976 special, The Day After Tomorrow, and guest-starred in an episode of The Protectors'.
Ed was also known for voicing Phillip Marlowe in the BBC Radio adaptations of the Marlowe novels by Raymond Chandler. He was also one of the only veterans of Gerry Anderson's productions to also act in the Star Trek franchise, voicing a character in an episode of Star Trek: The Animated Series in the early 1970s. His also had small roles in 2001: A Space Odyssey and the James Bond film, Diamonds Are Forever (as Klaus Hergersheimer, in a sequence that included some coincidental references to UFO).