Four Feather Falls

Production

Released by
Granada Television
Producer
Gerry Anderson
Directed By
Gerry Anderson
David Elliott
Allan Pattillo
Director of Photography
Arthur Provis
Art Director
Reginald E.Hill
Music Director
Barry Gray
Special Effects
Derick Meddings

Details

Medium
Black and White
Episodes
39 (1 Season)
Duration
12-13 Minutes
Original Air Date
Feb 1960

Series Guide

Previous
Next
Torchy the Battery Boy
Supercar
Four Feather Falls was a marionette show which used an unusual combination of the western and fantasy genres. The show follows the adventures of Tex Tucker the Sheriff of Four Feather Falls. It was Gerry Anderson's first series to use the Supermarionation puppetry techniques, though the term itself would not be coined until midway through production of Anderson's next series, Supercar.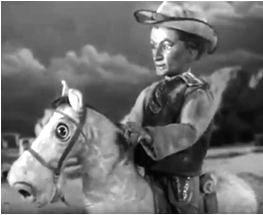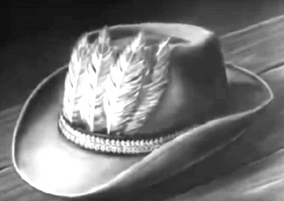 Regular Cast
Marvin Jackson - Kenneth Connor
Dan Morse - Nicholas Parsons
Doc Haggerty - Kenneth Connor
Slim Jim Denison - Kenneth Connor
Makooya - Denise Bryer
Chief Kallamakooya - Kenneth Connor
Pedro - Kenneth Connor
Fernando - David Graham
Big Ben - David Graham
Red Scalp - David Graham
Bill Asher - David Graham and Kenneth Connor
Abe Weeks - Kenneth Connor
Episodes
(Production Order)
Pedro Has A Plan
Pedro's Pardon
A Close Shave
Indian Attack
Sheriff For A Day
Dusty Becomes Deputy
Gun Runners
Frame-Up
Gold Diggers
Gold Is Where You Find It
Trapped
The Best Laid Plans
Escort
The Toughest Guy In The West
Chance Of A Ghost
Gun Play
A Lawman Rides Alone
Jail Break
A Little Bit Of Luck
Land Grabbers
Once A Lawman
Election Day
Gun Fight On Main Street
Horse Thieves
A Bad Name
The Ma Jones Story
Bandits Abroad
A Cure For Everything
Teething Troubles
Buffalo Rocky
Safe As Houses
First Train Through
Fancy Shooting
Happy Birthday
Ambush
Ride 'Em Cowboy
(Broadcast Order)
Frame-Up
Pedro Has A Plan
Sheriff For A Day
Indian Attack
A Close Shave
Pedro's Pardon
The Toughest Guy In The West
Gun Runners
Jail Break
Trapped
Dusty Becomes Deputy
A Lawman Rides Alone
Buffalo Rocky
Gun Play
Escort
A Little Bit Of Luck
The Best Laid Plans
The Ma Jones Story
Election Day
Gun Fight On Main Street
Chance Of A Ghost
Once A Lawman
Land Grabbers
A Cure For Everything
Bandits Abroad
Safe As Houses
Gold Is Where You Find It
Gold Diggers
First Train Through
A Bad Name
Teething Troubles
Fancy Shooting
Ride 'Em Cowboy
Ambush
Horse Thieves
Happy Birthday
Credits
Cultural References
Some fans believe that Four Feather Falls was the inspiration for the fictional show Woody's Roundup which featured in the 1999 film Toy Story 2. Like Four Feather Falls, Woody's Roundup was a marionette show which was cancelled in favour of space shows, the former being succeeded by Supercar and Fireball XL5, the latter by the fictional Buzz Lightyear of Star Command. A connection is also suggested by the fact that the protagonists in Supercar and XL5 are named in the same style as the equivalent character from Toy Story; Mike Mercury and Steve Zodiac compared with Buzz Lightyear.
Merchandise Gallery
Community content is available under
CC-BY-SA
unless otherwise noted.