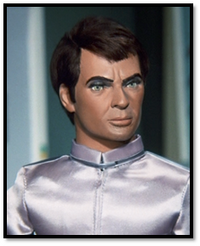 Frazer is a character from the Captain Scarlet and the Mysterons episode Crater 101.
He was working with the lunar controller of Lunarville 6, Linda Nolan and Spectrum to destroy the Mysterons' complex that was stationed in Crater 101 on the moon. His orders were to place a nuclear device that would completely destroy the complex while Spectrum personnel Captain Scarlet, Captain Blue and Lieutenant Green explored it and removed it's power source.
The device's detonation was to be set for 12 o'clock (Standard Earth Time), however the Mysterons took control of Frazer and he set the device for 10 o'clock, two hours ahead of schedule.
After Nolan found out, she warned the Spectrum agents by firing an unarmed rocket to their location and Spectrum barely managed to succeed while the complex was completely destroyed.
Frazer is not seen after this, but it can be assumed that he was arrested for his insubordination.
He was voiced by David Healy.
Trivia