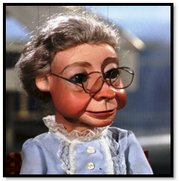 Grandma Tracy (birthdate and age unknown) is the matriarch of the Tracy family - the "first family" of Thunderbirds.
She's the widow of Kansas wheat farmer Grant Tracy, mother of Jeff, their only child, and grandmother of Scott, Virgil, Alan, Gordon and John - Jeff's sons with his late wife, Lucy. Following the untimely death of her daughter-in-law, Grandma helped her son raise his five then-young boys...
Biography
Not much is known about Grandma's early life; even her first name is not known (she's usually addressed as "Mother" and "Grandma," respectively). Her own grandmother had an adventurous side, and as a little girl she heard many tales of the former's world-travels - to exciting places like Paris, New York and London, which then had underground-train transportation systems, pre-dating modern monorails...
When the time later came that Jeff conceived and founded International Rescue - dedicated to saving lives - and retired from his namesake-aerospace corporation to distant Tracy Island in the South Pacific, Grandma joined him and her now-grown grandsons there. And while the island functions as IR's hidden headquarters, it's Grandma who sees to it that, first and foremost, Tracy Villa is a true family home. She still enjoys looking after her busy brood, and spoiling them with her home-cooking - eldest grandson Scott, for example, is a big fan of her fresh-baked apple pie!
That she inherited some of her grandma's cleverness, comes through in the episode Vault of Death: to her family's great surprise, she came up with the critical clue that Virgil and Alan needed to reach a trapped Bank of England employee and other means were impractical. Finding the tunnels of the old London Underground still intact, the two brothers used them to reach and successfully complete the rescue in the nick of time!
Voice
Grandma appears in a number of episodes of Thunderbirds, and was voiced by Christine Finn.
Read More...
Grandma Tracy on Thunderbirds Wiki: http://thunderbirds.fandom.com/wiki/Grandma_Tracy