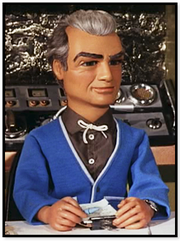 Jeff Tracy is a character from the television series Thunderbirds.
Jeff Tracy is the son of a Kansas wheat farmer and was a US Air Force Colonel before transferring to become an astronaut where he gained the distinction of being one of the first men to land on the moon.
Jeff then went into construction engineering and became one of the richest men in the world whilst also raising his five sons after the tragic early death of his wife.
Jeff's humanity and kindness led to the creation of International Rescue which he runs from Tracy Island, a secret base located somewhere in the Pacific. His sons pilot and operate the crafts and machines.
Personality
Edit
Jeff is cool, calm and collected at all times; he prefers to think his way through situations, and never makes hasty decisions, nor does he act on impulse. Jeff overseas operations from the Island and decides which craft, and machines are used on missions.
Jeff rarely takes any vacation, nor does he attend functions; he once left his eldest son Scott in charge while he escorted Lady Penelope. Jeff is a proud man, but knows his limitations, he is never too proud to consult Brains when the going gets tough or expert/special knowledge is required.
Jeff is said to be modelled on Lorne Greene, who plays a similar role on the American TV show Bonanza.