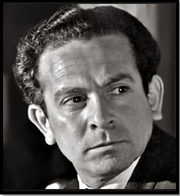 John Bluthal (1929- 2018) was born on August 12th in Galicia, Poland. He emigrated to Australia with his family in 1938 at the age of nine, and moved to England in 1959.
He provided the voice for Commander Zero in the series Fireball XL5.
He died on the 15th of November, 2018.
Other Work
Some of his other television appearances include: an episode of Sykes Allo 'Allo!, Hancock, Minder, The Saint (TV series) episode The Happy Suicide, The Avengers, Rumpole of the Bailey, Jonathan Creek, Lovejoy, Bergerac, and Inspector Morse, as well as appearing as Major Cheeseburger in The Goodies' episode "Clown Virus".
His most recent appearances in TV have been in the sitcom The Vicar of Dibley as the fastidious minutes-taker Frank Pickle.