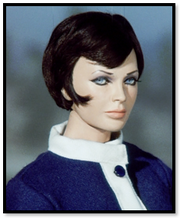 Judith "Judy" Chapman is a character from the Captain Scarlet and the Mysterons episode Place of Angels.
She was voiced by Sylvia Anderson.
Judy was an assistant at a research facility who was killed and reconstructed by the Mysterons to carry out their threat of destroying Los Angeles (the Place of the Angels) with a deadly virus called the K14, a virus so dangerous, it could wipe out a city of ten million people. Even worse, the human body had no defense against it.
She prepared to spread it by pouring it into the city water supply at the main reservoir at the Boulder Dam.
Unfortunately Spectrum caught on and after a confrontation with their number one agent Captain Scarlet, Judy fell over the edge of the dam to her death, while Scarlet safely recovered the K14 before it fell in the water, thus foiling the Mysteron plot.
Trivia