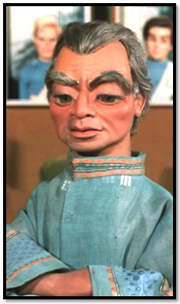 Kyrano (birth certificate lost; age unknown) is the domestic majordomo of Tracy Island - home of the Tracy family (and hidden headquarters of International Rescue) - in the British television series Thunderbirds.
Biography
Born in Malaysia, Kyrano has led an interesting life - some of it planned, much of it unplanned. The son of a wealthy plantation owner, Kyrano's rightful inheritance was usurped by his evil half-brother, the Hood, following their father's death. He turned his back on material gain after that, and turned instead to a number of different pursuits...
Becoming an expert botanist, he spent several years at Kew Gardens in England, cultivating and advising on Asian Orchids, before being invited to the Kennedy Space Centre in America, to help in a project to produce synthetic food from plants. It was here that he first met then-astronaut Jeff Tracy, and the two became firm friends...
Later, Kyrano moved on to Paris; and during his tenure as head chef at the Paris Hilton, his path and Jeff's crossed once again - his old friend, now retired from running his namesake-aerospace corporation, was relocating himself and his family to the island he'd purchased in the South Pacific, and would he help him in organizing and running the place? Kyrano gladly accepted.
(Tracy) Island Time...
Now a full-time resident at Tracy Island, along with his daughter Tin-Tin, Kyrano oversees all aspects of the household's day-to-day domestic activities. His cooking wins rave reviews from his friends, and while he and Grandma Tracy amiably "agree to disagree" sometimes on their various methods, they otherwise happily co-exist in the Tracy Villa kitchen. His botanical knowledge informs his skill in cultivating edible fruits and vegetables, and many varieties of colorful flowers and greenery that regularly grace the environs of the Tracy Villa grounds as well as within the Tracy Lounge itself.
He remains a close friend and confidant of Jeff, shares his pride in his five grown sons and, perhaps above all, is a doting father to Tin-Tin...
Kyrano's only failing, is by no means his fault - in fact, he's not even consciously aware of it: his susceptibility to the evil influence of his half brother, the Hood, who often uses him as an unwitting pawn in his ongoing attempts to learn the secrets of International Rescue...
Read More...
Kyrano on Thunderbirds Wiki: https://thunderbirds.fandom.com/wiki/Kyrano