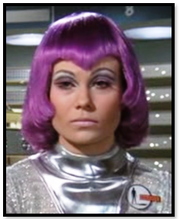 Lieutenant Joan Harrington
in an operative of SHADO, based on SHADO's moonbase. She is portrayed in the series UFO by
Antonia Ellis
.
Appearances
Listed in production order. [N 1]
Notes
↑ According to the IMDB entry for Antonia Ellis, Lt. Harrington did not feature in the episodes A Question of Priorities, Court Martial, Confetti Check A-O.K, Sub-Smash, The Sound of Silence, The Cat with Ten Lives, Destruction, The Man Who Came Back, The Psychobombs, Reflections in the Water, Timelash, Mindbender and The Long Sleep[1]
Sources
Community content is available under
CC-BY-SA
unless otherwise noted.