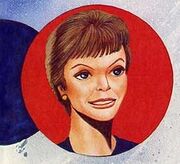 Lucille "Lucy" Tracy was the wife of Jeff Tracy, and mother of their five sons: Scott, John, Virgil, Gordon and Alan.
Her untimely early death left behind a grieving widower and five young boys to, somehow, go on without her...and set in motion the events that would culminate in the creation of a unique memorial to her: the life-saving, top-secret organization International Rescue, whose adventures are chronicled in the British television series Thunderbirds.
Biography
Lucy Taylor was a talented artist and musician when she met then-Air-force-officer Jeff Tracy. Their chemistry was all but immediate, and as Jeff transferred to the astronaut corps and trained for a mission to the Moon, they married and began their family life together.
However, sometime after the birth of her fifth child, Alan, Lucy died - rupturing the close-knit Tarcy family circle forever. The official cause of her death is unknown. but various different ways have been suggested (eg illness, road accident) and the most official death so far, avalanche (Thunderbirds 2004 and The Complete Thunderbirds Story).
Jeff reluctantly gave up the space career he loved and, with the help of his mother, devoted himself to raising his sons. But neither he, nor they, truly forgot her...and her memory lives on, in every life saved by International Rescue.
She lives on, as well, in the personal qualities she bequeathed to each of her sons: her determination (Scott), her love for the stars (John), her love for music and the arts (Virgil), her sense of humor (Gordon)...and everything else (Alan).
Origins
Lucy never appeared (or was otherwise referred to) in the original Thunderbirds series. She was introduced in the multi-chapter TV21 comic prequel The Complete Thunderbirds Story, illustrated by Andrew Skilleter and written by longtime Gerry Anderson collaborator and veteran Thunderbirds writer Alan Fennell.
Of her sons, Virgil takes the most after her in appearance, much as his older brother Scott takes after their father.
Her maiden name, Taylor, appeared in the Joan Marie Verba novel Countdown To Action!
Read More...
Lucille Tracy on Thunderbirds Wiki: https://thunderbirds.fandom.com/wiki/Lucille_Tracy