Jurassic World: Dominion Dominates Fandom Wikis - The Loop
Play Sound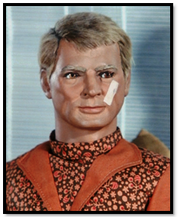 Major Buchanan Gravener is a character from the Captain Scarlet and the Mysterons episode Treble Cross.
He was a World Army test pilot who was driving home one evening when Captain Black forced his car to crash into the lake and he and his driver Harris were drowned. He was then reconstructed by the Mysterons to carry out their threat of destroying the world capital Futura city.
However the original body of Gravener was found and after being dead for almost two hours, he recovered in Slaton hospital. At the same moment the Gravener reconstruction tried to steal a XK-107 bomber armed with a nuclear warhead from Slaton Airbase. When the base found out that the real Gravener was in hospital, they attempted to stop the reconstruction by blocking the runway. The XK-107 crashes and explodes killing the Gravener reconstruction. 
Spectrum then finds out what has happened and Captains Scarlet and Blue briefs Gravener on the situation, who is amazed by all that had happened. They then ask for his help in saving Futura City as they believe that the XK-107 theft was part of the Mysteron plan. Gravener agrees and goes in the place of his reconstruction, taking off in another XK-107 to deceive the Mysterons so that they will tell them what they are planning.
Sure enough, Captain Black gives him instructions to land 30 miles outside Futura City at the disused Weston Airstrip, where his truck would be waiting.
After hearing this, Spectrum deduce that the purpose of the rendezvous that Black had chosen was to transfer the warhead to a road vehicle, after which Gravener's reconstruction was to have continued flying the XK-107 as a decoy while the warhead was driven into Futura City and detonated. They then set up a block around the airstrip to capture Black. Sure enough, a truck is waiting there with a driver behind the wheel (though the face isn't seen). After discovering the block, the truck attempts to escape but crashes into a bunker, killing its driver.
However the driver is revealed to be none other than a reconstruction of Gravener's driver Harris. Futura City was safe, the Mysterons had failed, unfortunately Black's sixth sense of danger warned him and he had managed to escape. Gravener then returned to his active Air Force duties.
From this experience, Spectrum discover that the Mysterons do not have the equivalent of their organisation's Mysteron Detector as they couldn't distinguish between the real Major Gravener and their own reconstruction.
He was voiced by Jeremy Wilkin.
Trivia