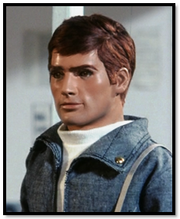 Mason is a character in Captain Scarlet and the Mysterons in the episode Special Assignment.
He was a mechanic who owned a garage named Mason's Autos and he carried a radio on a strap over his shoulder as he enjoyed music.
One particular evening, he met Captain Black who had driven in and asked if his petrol tank needed filling. Black nodded and Mason asked him to reverse so he could use the petrol filter. Black however, deliberately reversed too fast and ran him down. The Mysterons then reconstructed him to accomplish one of their aims.
Later two con-men named Steele and Kramer arrive and Mason has been given instructions by the Mysterons to sabotage their car by draining their brake fluid which he does as the aliens have picked these two men to reconstruct as well.
He is not seen again after this.
He was voiced by Shane Rimmer, best known for voicing Scott Tracy in Thunderbirds.
Trivia