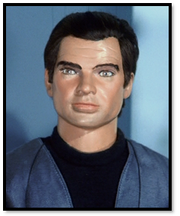 Mervin Brand is a character in the Captain Scarlet and the Mysterons episode The Launching.
He was a news reporter for the Tribune and was killed after his aircraft crashed during a storm and was reconstructed by the Mysterons to carry out their threat to destroy the SS. President Roberts, a new atomic liner that was going to be launched, that had been named after President Roberts himself.
The Mysteronised Brand made it to the launching and after exchanging conversation with his friend the Vice-President and his wife in their private box, he transformed the bottle of champagne that was being used to christen the ship into a deadly explosive device.
Just as the Vice President's wife was about to christen the ship, Spectrum agent Captain Scarlet arrived in the nick of time to stop it. Spectrum had assumed that the real President Roberts was the next Mysteron target, but after getting a tip from the President that the ship would be named after him, they discovered the aliens' true target.
Scarlet told the Vice President and his wife that there was a bomb that would destroy the atomic liner and they must evacuate immediately. Brand then pulled out a gun and Scarlet drew his. Brand gets hit in the chest by one of Scarlet's bullets and falls to the ground. The Vice President is shocked by the ordeal as Brand was a personal friend.
Everyone including the Vice President and his wife, left the docks and while Scarlet was communicating with his fellow Spectrum personnel on what had happened and stating that the Mysterons had failed, Brand suddenly got up; "No Earthman, we will be avenged!" He then pressed the launch button to release the bottle but it narrowly missed the now moving ship and swung back into the box and exploded.
Brand was killed, but Scarlet thanks to his indestructibility, made a full recovery.
Brand was voiced by Gary Files.
Trivia