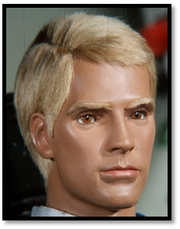 Navigator Conway is a character from the Captain Scarlet and the Mysterons episode The Mysterons.
He was part of Spectrum's Zero-X mission to Mars, and along with Captain Black and Lieutenant Dean, accidentally discovered the Mysterons.
Trivia
Being a revamp puppet, Conway made many other appearances throughout Captain Scarlet and the Mysterons. They were: DT19 Co-Pilot, 3rd London Police Officer, Culver Guard 1, Davidson, 1st Warden (Post 14) and Doctor Carter. It made an appearance here with brown eyes, which were later changed to blue and then back to brown.
In the bonus content for the Captain Scarlet Volume 4 Bluray, Conway's name is instead Jason Knoll, possibly a reference to Jack Knoll, writer and proprietor of the Security Hazard blog.
Note