This article is currently a stub.

Please help by
adding content
. Thank you!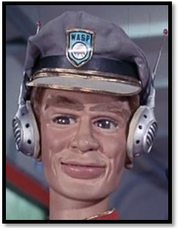 Lieutenant George Lee Sheridan, nicknamed 'Phones', is Troy Tempest's co-pilot and hydrophone operator in the Supermarionation series Stingray.
Sheridan was born on September 15, 2034 in the state of South Carolina. George Sheridan had a very difficult childhood. Orphaned in his early teens, he dropped out of school and drifted around the USA doing odd jobs.
Eventually Sheridan tired of the drifter's life and became a mercenary. A man of good principals, George Sheridan always made sure that he fought on the right side of any given conflict! Having technical aptitudes, he specialized in military communications and though he had little formal education, soon became a self-taught expert.
The pivotal event of George Sheridan's life came when he took a job which resulted in the rescue of Troy Tempest from hostile forces after an unsuccessful World Navy mission. The chance meeting led to a lifelong friendship and an appointment to the World Naval Academy. Nicknamed 'Phones' by his fellow cadets, George Lee Sheridan was awarded a degree in communications engineering with honours in only one year.
Sheridan also volunteered for the submarine service after graduating from the World Naval Academy. He soon found that the naval life suited him very well since he had become accustomed to hard work and discipline. Sheridan was quickly promoted to the rank of Lieutenant.
Captain Tempest approached Sheridan about joining him in the wasps as his hydrophone operator soon after taking command of Stingray. Sheridan was very pleased at the thought of working under his good friend and agreed to transfer out of the World Navy into the WASP without any hesitation.
'Phones' Sheridan is fairly one dimensional. Fiercely loyal to Captain Tempest and the World Aquanaut Security Patrol, his main interest is still communications tech­nology. He spends much of his off duty time attempting to improve Stingray's electronic systems. Even so, he still occasionally goes out on social occasions with Troy Tempest,Atlanta Shore and Marina.