Jurassic World: Dominion Dominates Fandom Wikis - The Loop
Play Sound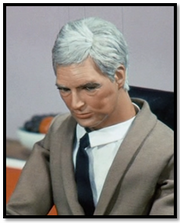 President John L. Henderson is a character from the Captain Scarlet and the Mysterons episode Codename Europa.
He was one of the three presidents of the Triumvirate of Europe along with Conrad Olafson and Joseph Mecinni.
Each president was being protected by Spectrum in a maximum security base after a threat of assassination by the Mysterons. 
Thinking he had succeeded into killing Olafson, Professor Gabriel Carney (an electronics genius who had been killed and reconstructed to carry out the Mysteron threat) went back to his bungalow and made plans to kill his other targets. Henderson would be next and Meccini would be last. He then headed to the base where Henderson was being protected.
Later that night, Carney activated a model aeroplane that had a special jamming device inside which wiped out communications at the base as well as the wavelength to Spectrum. He then blew the power to the base and walked there past the guards whilst wearing special googles to help him see though the darkness.
Armed with a gun, Carney then proceeded to the room where Henderson was, but he failed to notice a trip wire left at the door and tripped over it. Captain Scarlet who had been hiding behind Henderson's desk, shot Carney dead. Both himself and Blue marvelled at how someone as clever as Carney got past their alarm systems, only to be foiled by a simple piece of trip wire.
He was a silent character.
Trivia