Professor Matic

Description

Born
5th October 2012, Great Britain
Hair
Grey
Eyes
Green

Details

Series
Fireball XL5
Role
Science offcier
Computer expert
Voice Actor
David Graham
Professor Matthew Matic is a main character from the TV series Fireball XL5 and acts as the navigator for the spaceship Fireball XL5. He has extensive experience with computers and robotics as well.
Character Bio
(as written in Century 21 Magazine)
Despite being born on English soil, Professor Mathew Matic spent most of his childhood in Houston, Texas. His father worked as a scientist with the Solar System Exploration Centre at Glenn field Spaceport. This left a big impression on the boy, who would become endlessly fascinated with science in later years. He spent his higher education at Universe University, where he would make acquaintances with Doctor Bernard Stamp and Doctor Howard Rootes, both of whom he would meet in later life during wildly differing circumstances. He graduated in 2033 with 21 degrees in astrophysics, robotics and astronomy. His first space mission was acting as the navigator for several Zero-X interplanetary expeditions with Wilbur Zero along too as co-pilot. This continued for several years until 2045, when Mathew accepted a Professorship at Universe University where he would lecture on Hyperdrive technology and Astronomy.
In 2050, Professor Matic designed and built the world's first Nutomic Hyperdrive Motor. The Zero-X vessels by this time were showing their age. Even with all the upgrades made to their propulsion systems, they still were struggling to make the several month long trips between planets. Professor Matic's Nutomic design would revolutionise space travel and reduce the travel time to mere days. In recognition for his remarkable achievement, Matic was offered the position of Research and Development Head on the XL project. In accepting this, he was henceforth promoted to the honourary rank of Major while he worked on designing the new ships. 2051 saw the first new prototypes using Mathew's Nutomic engines enter active service, including XL1 Alpha. By 2057, all the Fireball XL ships had been outfitted with this new technology and faced with the real prospect of exploring alien worlds, Matic requested a posting on one of the new ships. To the surprise and delight of Steve Zodiac, the professor was assigned to his ship and has stuck with Steven through thick and thin ever since.
Trivia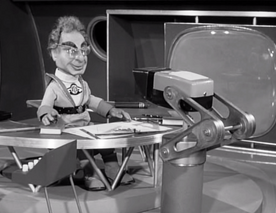 Community content is available under
CC-BY-SA
unless otherwise noted.