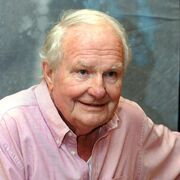 Shane Lance Deacon (28 May 1929 – 29 March 2019), known professionally as Shane Rimmer was a Canadian voice actor and scriptwriter who had a long association with Gerry Anderson. He is best known for providing the voice of Scott Tracy throughout Thunderbirds, as well as Dick Spanner, the eponymous private Detective in Dick Spanner, P.I.
Voice Acting
Trapped in the Sky
The Mighty Atom
Reactor Control Assistant
Vault of Death
Operation Crash-Dive
Martian Invasion
Terror in New York City
Special Assignment
Flight to Atlantica
Inferno
International Concerto
Big Fish
Business Holiday
Colonel Henderson
Taxi Driver
Double Agent
Most Special Astronaut
Breakaway
Matter of Life and Death
The Testament of Arkadia
The Last Enemy
The Lambda Factor
Maintenance Section worker
IMDb.com lists Rimmer as a voice actor in the upcoming production. Character unknown.
Live-action appearances
Identified
Computer Affair
Confetti Check A-OK
Vocal
Zeke's Blues
Space Brain
Writing
Avalanche
Expo 2068
Inferno
The Fortress
King for a Day
Splashdown (uncredited)
Big Fish
Relative Danger
Breakout
Pilot episode (story credit)