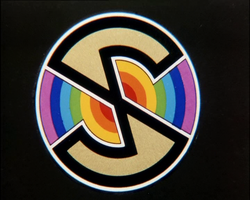 "S.I.G."
— The Spectrum call sign
Spectrum is a global peace organisation and armed military force operating from around the world. Spectrum was established on 7 July 2067 and came into operation three days later. Spectrum was formed to relieve some pressure from the World Council, the World Aquanaut Security Patrol and the World Space Patrol.
Spectrum has offices around the world, but all senior agents are permanently stationed on the giant aircraft carrier Cloudbase.
In 2068, Spectrum began to monitor some unusual signals that they traced to Mars. Spectrum sent one of their top officers Captain Black, along with specialised Zero-X pilots Dean and Conway, to the red planet to track down the mysterious signals. Their search nearly proved fruitless, but over the last ridge the three man crew discovered something that would ultimately change Spectrum, and the world, forever: the Mysterons. Mistaking a camera for a weapon, Captain Black gave the order for the city to be destroyed. However, from a rocky outcrop came a beam, and the whole city was reconstructed in front of their eyes. In revenge for this act of aggression, the Mysterons began a "War of Nerves" with Earth, and possessed Captain Black as their Earth agent.
After this Spectrum dedicated itself to countering the Mysteron threat. When the Mysterons declared their first act of revenge on Earth, officer Captain Scarlet was killed and reconstructed by the Mysterons, but he broke free from their control and gained their ability of reconstruction making him indestructable. He became Spectrum's leading agent in the fight against them.
Cloudbase Staff
There were originally 11 senior officers and five Angel fighter pilots stationed on Cloudbase. However, after the discovery of the Mysterons and subsequent events, this number gradually decreased after the loss of three officers; Captain Black, Captain Brown and Captain Indigo. In total, there are 593 Spectrum officers stationed on the carrier.
Spectrum Officers
The colour code-named officers are special, talented personnel whose skills from their previous lines of work are used for the efficiency of the organisation. They each wear a special uniform that bears their colour code-name (with the exception of Captain Indigo who was disguised as waiter in his only appearance on the programme, but his waistcoat bore his code-name).
The Angels
A team of five daring, skilled fighter pilots.
Assignments
Main article: Spectrum's Assignments
Trivia
The Spectrum logo was designed by Tony Dunsterville.
The logo is seen on every officer and angel uniform as well as vehicles and craft.
The Spectrum jacket was based on Pierre Cardin's Cosmos design.
Captain Scarlet and the Mysterons