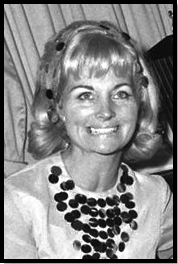 Sylvia Anderson (Born Sylvia Thomas, 25th March 1937 - 15th March 2016) was the co-creator of a string of hit TV shows through the late 1950s, 1960s and 1970s. Her most memorable contribution as an actress was the voice of Lady Penelope Creighton-Ward from Thunderbirds, which is one of the many series she co-created with former husband Gerry Anderson.
Beginning
Edit
Graduated at London School of Economics, she joined Polytechnic Films as a secretary, where she met Gerry. Shortly after, in 1957, AP films was created (after the collapse of Polytechnic Films). She became Gerry's second wife in 1960, also becoming more involved in production.
The creative partnership with Gerry Anderson concluded when their marriage broke down during the production of the first series of Space: 1999 in 1975
Known for the voice of Lady Penelope Creighton-Ward and a string of co-productions with Gerry Anderson. Sylvia's most creative talent lies in the characterization throughout the many varied series. Sylvia also had a role in the British series Absolutely Fabulous, known ironically by its fans as Ab Fab!
Her biography Yes M'Lady was published in 1996, and republished as My Fab Years in 2007, with new material bringing it up to date, including her role as a consultant on Universal's 2004 film Thunderbirds.
AP Films productions
Edit
Century 21 Productions
Edit
Group Three Productions
Edit
Feature films
Edit
External links
Edit
Community content is available under
CC-BY-SA
unless otherwise noted.