Hey, is it just me, or is this wiki relatively empty?!
People here should advertise this wiki, I can make the graphics, you just have to add links to websites...
I really don't want the Gerry Anderson fandom to die along with him.
Abracadabra123 00:29, 29 August 2008 (UTC)
Those are only the beginnings. Only today I have made the forums work and I think there are a few things more to do before new guests arrive ;) That would be great if you made the graphics!
Jamjumetley 20:28, 30 August 2008 (UTC)
I have made a logo for external linking.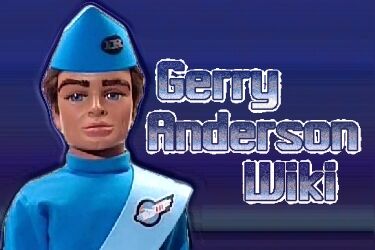 Do you like it? Does it look too unprofessional? Does it need to be smaller? Is it too Thunderbirds-centric? Does it need to be more complex? Please comment...

There is one thing I wanted to know, when are you going to start on the articles for Gerry Anderson's live-action productions?
Jcamts 10:59, 18 January 2009 (UTC) Lets face it; we need as much help to get this wiki looking presentable. I suggest someone contacts the major Gerry Anderson websites and inform them of the new Gerry Anderson Wiki. EG: Fanderson and Spectrum Headquarters. If that's ok with everyone.
I've added a small picture to the right of the introduction text. It will change randomly. Right now there are only 5 images of Thunderbird machines but soon I'll add some more vehicles and charachters from other series as well. If you have some interresting images please give me a shout :)
Jamjumetley 16:01, 5 July 2009 (UTC)
The Gerry Anderson Wiki logo looks off, the background of the image is too bright to read the text. Has this happened to you, can it be fixed? Abracadabra123 19:26, September 16, 2009 (UTC)
.
Sweet
The links to characters and episodes etc. are pretty sweet and dandy, but let's face it: 99% of interest in GA's work is series driven. Therefore, I think that the front page should have prominent links to the series and/or movies, and not to various other stuff. --Sigmund 2014 (talk) 02:18, February 12, 2016 (UTC)
So instead of characters and episodes we'll have Supercar, Fireball, T-Birds, etc? I'll have to scale the module boxes down then so we can fit three in a row in. Jack Guyus (Talk / contribs) 07:33, 2.12.2016
Community content is available under
CC-BY-SA
unless otherwise noted.