Jurassic World: Dominion Dominates Fandom Wikis - The Loop
Play Sound
Terrahawks

Description

Released by
Anderson Burr Pictures
Producer
Gerry Anderson and

Christopher Burr

Directed By
Alan Pattillo
Desmond Saunders


Tony Bell




Tony Lenny



Music Director

Richard Harvey

Special Effects

Steven Begg

Details

Medium
Colour
Episodes
39
Duration
22 Minutes
Original Air Date
3rd October 1983

Series Guide

Previous
Next
Space:1999
Dick Spanner, P.I.
"Terrahawks, stay on this channel! This is an emergency!"

Terrahawks was a TV series produced by Gerry Anderson and Christopher Burr from 1982-84.
The series was made up of 39 episodes which were originally broadcast in the UK in 3 separate 13 episode seasons. This was Gerry Anderson's first time producing a TV show from the ground up since 1958 with A.P. Films. The series was made at Bray Studios in Berkshire.
Terrahawks focused on the eponymous Earth Defence Squadron known as Terrahawks which was tasked with defending planet Earth from alien threats. The series is notable for it's less dire tone of stories than many of Gerry's post Thunderbirds shows such as Captain Scarlet or UFO. Tounge in Cheek humour was often the mainstay, with head writer Tony Barwick in particular writing most of the series under pseudonyms that were puns of the name Einstein such as 'L. Inkstein' or 'Tom Katstein'.
The series premiered on London Weekend Television but did also get broadcast on ITV Network and Granada Television. It was remarkably popular during its original run amongst children, the character of Zelda enduring the most in the minds of many due to her scary design. The series was picked up for US networking by Tribune Broadcasting in 1986, who enjoyed similar positive response and were interested in commissioning an additional 35 episodes.
Scripts for this planned 4th series included one written by Gerry Anderson titled '101 seed' and one by Tony Barwick called 'Attempted MOIDer', the former seeing the light of day as an episode of the first series of the Big Finish Terrahawks audio revival in 2014. Unfortunately, Tribune failed to produce the money needed and after two failed attempts by Gerry to get a Terrahawks spin-off into production, one focusing on Stew Dapples and another with just the Zeroids and Cubes, production on Terrahawks finally came to a close at the end of 1986.
Due to the series not being an ITC Entertainment product, the series was not rerun after the 80s and today remains a rather obscure series in the Gerry Anderson oeuvre.
Plot
In 2020, the NASA Mars base was attacked and destroyed by a fleet of alien ships commanded by a witch-like "Mantron" (conscious android) named Zelda from the planet Guk (technically, Proxima Centauri 2), who set up her base on the newly-vacant Mars planet and promptly launched her attacks against the Earth with her son Yung-Star and her sister Cy-Star at her side. Terrahawks - an elite fighting force, set up in response to a previous alien attack in 2017 - stands ready to oppose the terrible alien threat, operating out of Hawknest in South America. Their leader is Dr. 'Tiger' Ninestein, one of nine clones of Professor Gerhard Stein; the rest of the team consists of: Captain Mary Falconer, Tiger's second-in-command; Captain Kate Kestrel; Lieutenant Hiro; and Lieutenant Hawkeye.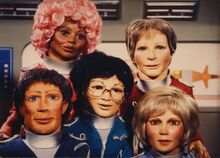 There are 5 main vehicles in the organization: Spacehawk, a mobile space station and first line of defense; Hawkwing, a high-speed interceptor-craft; Battlehawk, an armed heavy-duty transport; Treehawk, a space shuttle similar in function to Thunderbird 3; and Terrahawk, a nimble reconnaissance craft stationed on Battlehawk.
In addition to Terrahawk, Battlehawk also carried: Battletank, a ground-assault vehicle driven by Megazoids; H.U.D.S.O.N., an upgraded 1990s Rolls Royce, which acted as a civilian transport for members of the team (and as Kate Kestrel's manager); Groundhawk, a rarely-used hostile-environment vehicle similar to Battletank; Seahawk (also rarely-used) the only Terrahawks craft capable of operating underwater.
Like Battlehawk, Spacehawk accommodated a handful of smaller vehicles: Spacetank; the aforementioned Treehawk; a Martian Exploration Vehicle (MEV), similar to that seen in Captain Scarlet & the Mysterons; and Hawklet, which was basically a smaller version of Treehawk (but better suited for aerospace combat).
The team also consists of a number of spherical robots known as Zeroids. These were often led by Sergeant Major Zero, although assisting Hiro in space was Space Sergeant 101. Despite being mechanical, many had their own personalities: 18, who spoke with a French accent, and whose name was often mispronounced as "Dicks Hewett"; 21, who spoke with a stutter; 55, who constantly rhymed when speaking (and who frequently helped Kate Kestrel write songs in her spare time).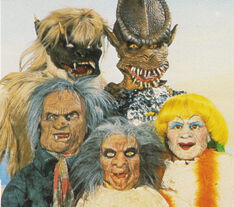 Zelda's family often remained on Mars, preferring to send their cabal of Monsters in cryogenic store to attack Earth and the Terrahawks on their behalf. These included Sram who could produce a thunderous roar, MOID whose name was an acronym for Master Of Infinite Disguises, and Yuri the Space Bear. Zelda's answer to the Zeroids were the Cubes who formed the backbone of the android's military might, one of which was kept as a pet by Cy-Star and named 'Pluto'. In the show's third season, the Androids of Mars were joined by a fourth member in the form of Cy-Star's offspring It-Star.
Badwater County's Sheriff Cy Bull also featured in a few episodes along with Deputy Kilroy.
An audio series of 24 episodes produced by Big Finish Productions was released some 30 years later, which consisted of three separate 8 episode long anthologies.
Regular Cast
Dr. Tiger Ninestein -

Jeremy Hitchen

Captain Mary Falconer -

Denise Bryer

Sergeant-Major Zero -

Windsor Davies

Captain Kate Kestrel -

Anne Ridler

(speaking) and

Moya Griffiths

(singing)
Lieutenant Hiro - Jeremy Hitchen
Lieutenant Hawkeye - Jeremy Hitchen
Space Sergeant 101 -

Ben Stevens

HUDSON - Ben Stevens
Zelda - Denise Bryer
Yung-Star - Ben Stevens
Cy-Star - Anne Ridler
Dix-Huit - Ben Stevens
Zeroid 21 - Ben Stevens
Colonel Johnson - Jeremy Hitchen
Stewart 'Stew' Dapples - Ben Stevens
Chic King - Jeremy Hitchen
Zeroid 55 - Ben Stevens
Sram - Ben Stevens
MOID - Ben Stevens
Yuri the Space Bear - Ben Stevens
Sheriff Cy Bull - Jeremy Hitchen
Deputy Kilroy - Ben Stevens
It-Star - Jeremy Hitchen and Denise Bryer
Dr. Kiljoy - Windsor Davies
Zeroid Nurse - Denise Bryer
Zeroid 13 - Ben Stevens
Zeroid 27 - Ben Stevens
Zeroid 35 - Ben Stevens
TIM - Ben Stevens
Sporillas - Ben Stevens and Windsor Davies
Lord Tempo - Ben Stevens
Sue Ellen - Anne Ridler
Pete - Ben Stevens
Radio Commentator - Jeremy Hitchen
Narrator - Ben Stevens
Episodes
(Production Order)
Season One:
Season Two:
Ten Top Pop

Unseen Menace

Midnight Blue

Zero's Finest Hour
Season Three:
Jolly Roger One

Runaway

First Strike

Terratomb

Doppelganger

Space Cyclops

Timewarp

Space Giant

Cold Finger
(Broadcast Order)
Season One:
Season Two:
Ten Top Pop

Midnight Blue

Zero's Finest Hour

Cold Finger

Unseen Menace

Space Giant
Season Three:
First Strike

Terratomb

Space Cyclops

Doppelganger

Jolly Roger One

Runaway

Timewarp
Audio Episodes
Volume 1:
The Price is Right
Deadly Departed
A Clone of My Own
Clubbed to Death
101 Seed
No Laughing Matter
Timesplit
Into the Breach
Volume 2:
Sale of the Galaxy
The Trouble with Toy Boys
Return to Sender
Renta-Hawks
Chain of Command
Lights, Camera, Disaster
Count Anaconda's Magnificent Orbiting Circus
My Enemy's Enemy
Volume 3:
No Second Chances
The Wrong Clone Number
Set Sail for Mis-adventure
You-Foe
Living Legend
The Prisoner of Zelda
Star Crossed
Enemies, Negotiation and Deceit
Digital Only Releases:
Vile
Zelda's Night Before Christmas

Music
Without the lavish budgets of his earlier television series, it was apparent to Gerry Anderson from a very early stage of production that it would not be possible to record full orchestral scores for Terrahawks. However, the development of synthesised music had advanced considerably since the early days of the experimental 'electromusic' composed and recorded by Barry Gray for Supercar and Fireball XL5, and by 1983 it was possible to create electronic music that could at least approach the scale and majesty of a full orchestra, but at a fraction of the cost.
Richard Harvey was introduced to Anderson by a mutual friend, music producer Tony Prior, who has previously suggested Derek Wadsworth as the composer of the music for Space: 1999 Year Two. A graduate of the Royal College of Music with a background in ancient and classical music, Harvey had worked extensively with film composer Maurice Jarre in the late 1970s. This experience made him the ideal choice to compose the music for Terrahawks, combining his knowledge of the structure of classical orchestral music with the latest synthesised music reproduction techniques. Anderson and his business partner Christoper Burr had regular meetings with Harvey to discuss the style of music that they wanted for Terrahawks, particularly the main theme which was envisaged as a combination of the 'best bits' of the themes to Star Wars, E.T. and Dallas.
In 2002, Fanderson records released a soundtrack compiling 75 minutes worth of music, the album included 3 of Harvey's Demo Themes for the show, 6 full episode scores and 3 surviving Kate Kestrel songs, "S.O.S", "It's So Easy" and the latter half of "Living in the 21st Century" which was used as the End Titles music in the U.S. syndication run. The remaining songs and first half of "Living in the 21st Century" are currently missing, presumed destroyed. 
Gallery
Trivia
At present there are only 4 episodes of the show which haven't been released in HD; Go(l)d, Thunder Roar, Timewarp and Cold Finger. No film copies of these have surfaced, but It is believed that Fanderson posess 16mm film reels of the episodes in their archives.
The stars of Terrahawks introduced other shows on CITV such as Danger Mouse, Inspector Gadget and most famously introduced by Sergeant Major Zero himself Thomas The Tank Engine And Friends.