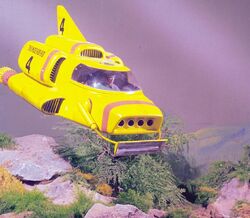 Thunderbird 4 - International Rescue's one-man submersible utility vessel - takes on rescue missions above and below the seven seas, in the TV series Thunderbirds.
Technical data
Type: Underwater-rescue craft
Designer: Brains
Built: 2024 or 2063
Dimensions
Length: 30 feet
Width: 11 feet
Weight: 16 tons
Power
Power source: Twin atomic fusion reactors
Engines: 6 Electrically-riven reversible axial-flow turbine impellers
Performance
Underwater speed 160 knots
Surface cruising 40 knots
Emergency launch speed: 30 knots
Maximum operating depth: 30,000 feet
Range: Unlimited
Crew and Accommodation
Aquanaut: Gordon Tracy
Hangar: Thunderbird 2, Pod 4
Launch procedure (Nominal): direct deployment from Pod 4, once deposited at danger- zone by TB2.
Launch procedure (Emergency): propulsion along Tracy Island runway, via onboard hover-jets, to tilt-down ramp built to facilitate access to ocean.
On-Board Equipment
SCUBA diving gear
Spot Light Array
High-Intensity Laser Cutter
Battering ram
Sonar Sensor
Missiles
Hangar and Launch
TB 4 is kept ready for action in its own specially-equipped pod, in TB2's massive hangar bay. Due to its limited range, it's usually transported to danger zones rather than travelling on its own.
Launch Sequence
Main article: Thunderbird 4 Launch Sequence
Purpose(s)
Underwater rescue - oceanic or riverine - or where access requires underwater transportation.
Appearances
Trivia
TB4 is the smallest craft of the five Thunderbirds.
Profile

Read More...
Thunderbird 4 on Thunderbirds Wiki: https://thunderbirds.wikia.com/wiki/Thunderbird_4