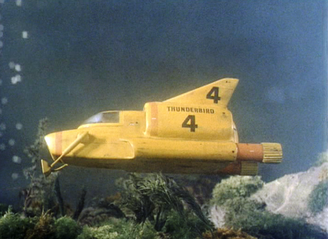 Thunderbird 4 is International Rescue's One-man submersible utility vessel.
Technical data
Edit
Type: Underwater rescue craft
Designer: Brains
Built: 2063
Dimensions
Edit
Length: 30 feet
Width: 11 feet
Weight: 16 tons
Power source: Twin atomic fusion reactor
Engines: 6 Electrically driven reversible axial-flow turbine impellers
Performance
Edit
Underwater speed 160 knots
Surface cruising 40 knots
Emergency launch speed: 30 knots
Maximum operating depth: 30,000 feet
Range: Unlimited
Crew and Accommodation
Edit
Aquanaut: Gordon Tracy
Back-up crew None
Hangar: Thunderbird 2, Pod 4
Launch procedure: Ocean launch from Thunderbird 2, Pod 4
Emergency launch Onboard hover-jets, moving craft to tilting ramp built into the end of the island's runway.
On Board Equipment
Edit
SCUBA diving gear
Spot Light Array
High Intensity Laser Cutter
Battering ram
Sonar Sensor
Missiles
Hangar and Launch
Edit
Thunderbird 4 is kept ready for action in the same hangar as Thunderbird 2. Due to limited range it is usually transported to the rescue zone in pod No. 4 or 6, by Thunderbird 2. It can however launch from a slipway nearby.
Launch Sequence
Edit
Main article: Thunderbird 4 Launch Sequence
Underwater rescue or where access requires underwater transportation.
Appearances
Edit
Thunderbird 4 is the smallest craft of all the Thunderbirds.
Further Reading
Edit
More information on Thunderbird 4, can be found on the Thunderbirds wiki:
Community content is available under
CC-BY-SA
unless otherwise noted.