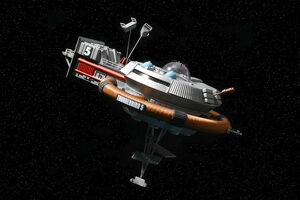 Thunderbird 5 is a space-station - the orbital listening post of the top-secret organization International Rescue.
TB5 - which monitors all radio communication on Earth 24/7, for distress calls - holds the honor of being the very first IR craft to appear on-screen, in the TV series Thunderbirds.
Technical Data and Personnel
Space Monitor: John Tracy
Space Monitor: Alan Tracy
Orbit: Geostationary above Tracy Island (22,400 miles above the Pacific Ocean)
Equipment: Includes broadcast and relay monitors; anti-meteor deflector; electronic telescopes
Length: 400 feet
Height: 272 feet
Weight: 976 tons
Diameter: 296 feet
Power: Nuclear pile
Reception: Any signal within 100 million miles
Life In Space
John Tracy - astronaut, astronomer and communications expert - is TB5's primary resident. A state-of-the-art observational telescope - housed in a crystalline astro-dome atop the station - attests to his ongoing passion for studying the heavens in-between rescue calls.
He and his brother Alan trade duties on TB5 and Thunderbird 3 - IR's big red rocket - every other month. Big brother Scott Tracy, while not usually part of the regular rotation schedule, is nonetheless subject to call aboard TB5, should circumstances dictate.
Docking Bay
To allow safe and reliable access between Thunderbirds 3 and 5, a sealable docking port has been built into an arm extending from the satellite.
Appearances
TB5 (and John or Alan, depending on who's on duty) appears in nearly every series episode, as it's usually the first to receive calls for help and then relay them to IR headquarters on Tracy Island (notable exception: Terror In New York City, where it's the only Thunderbird not to appear).
TB5 also appears in the Thunderbirds films, Thunderbirds Are Go and Thunderbird 6.
Read More...
Thunderbird 5 on Thunderbirds Wiki: http://thunderbirds.fandom.com/Thunderbird_5