This article is currently a stub.

Please help by
adding content
. Thank you!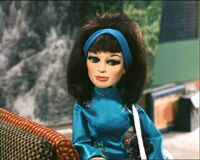 Tin-Tin Kyrano is the daughter of Kyrano, the domestic majordomo of Tracy Island - home of the Tracy family (and hidden headquarters of International Rescue) - in the British television series Thunderbirds. She is also the half-niece of IR's arch-enemy The Hood.
Biography
Born in Malaysia, Tin-Tin is the only child of Kyrano and his late wife. When her father later met Jeff Tracy, she also came into the greater Tracy family orbit. In gratitude for Kyrano's services, Jeff underwrote the expenses for Tin-Tin's education at a top-ranked American university, followed by a tour of Europe that was to conclude with her rejoining her father at the Tracys' new South Pacific-island residence...
...or, at least, that was the plan, until the state-of-the-art Fireflash airliner she was aboard was found to have been sabotaged, preventing it from landing! Enter International Rescue - in its public debut - which managed to get plane and passengers safely down on London International Airport's Runway 29...
(Tracy) Island Time...
Life finally settled down for the Kyrano family, once Tin-Tin was home with their friends on Tracy Island. Like her father, she has a number of different interests. She enjoys such home-pursuits as helping out in the Tracy Villa kitchen with Jeff's mother, Grandma Tracy. She's an avid swimmer and scuba-diver, an interest she shares with resident engineer/scientist Brains. She's even tried her hand at deep-sea fishing (with some expert pointers from Gordon Tracy)!
But Tin-Tin also has a sense of adventure - she's accompanied Virgil Tracy and his brothers on several rescues aboard Thunderbird 2, and - in her very first IR mission - accompanied Scott Tracy and his younger brother Alan into space aboard Thunderbird 3, to aid the imperiled Sun Probe mission. She wears her own blue IR uniform (albeit sans sash) on these occasions.
Back at base, she and Brains provide the technical support that keeps IR running smoothly, work for which her degrees in higher mathematics and advanced technical theory and engineering make her ideally suited...from doing post-flight checks on the different Thunderbird craft, to experimenting with new rescue methods and equipment. A qualified pilot in her own right, she also maintains and flies her own jet plane, Ladybird.
And she's even dabbled a bit in secret covert missions for IR, with London Agent Lady Penelope Creighton-Ward (eg, The Cham-Cham), who's become a friend and mentor...
And then, there's the none-too-little matter of romance. As fond as she is of each of her five "brothers" - Jeff's sons - she holds a certain special attraction for Alan, the youngest. And while he doesn't take too kindly to attentions paid her by her former boyfriend, Eddie Houseman (End Of The Road), it's clear enough that he and those other fellows are in her past...and the future is wide-open!
Notes
Two different sources give Tin-Tin's birthday as June 20.
Read More...
Tin-Tin Kyrano on Thunderbirds Wiki: https://thunderbirds.fandom.com/wiki/Tin-Tin_Kyrano