Tracy Island is home to the Tracy family and is the operational base and headquarters of International Rescue. Its location, somewhere in the South Pacific Ocean is top secret.
History
Jeff Tracy decided that the island would be the ideal location for his plans to run International Rescue with the help of his sons. The uppermost thought in Jeff's mind was that the island would be as secluded as possible; large enough to incorporate the launch pads and hangars of the fleet; rescue equipment and maintenance facilities; a laboratory for Brains, as well as the large family home.
Design
Everything on Tracy Island was built from scratch to the highest of Jeff's exacting standards. Taking into account that visitors outside of the organization would have to be catered for at some point, the ability to camouflage and keep secret the operational side was paramount to its design.
The island has the ability to switch looks at the touch of a button, trees change position, walls and pictures rotate, the Tracy home changes from base to home in minutes, assuming a look of luxury and hiding its main use and purpose, switching back and forth as required.
Installed on the island are the four main Thunderbirds.
Thunderbird 1 is housed below ground and is launched from beneath the swimming pool in front of the family home.
Thunderbird 2 is kept in a hangar behind a fake rock face beside the house, where palm trees sway to one side, away from the runway to make room for the wingspan.
Thunderbird 3 is launched through the round office from below.
Thunderbird 4 can be made operational from Thunderbird 2's hangar by means of a camouflaged slipway. This was the case in "Terror in New York City", where Thunderbird 2 was out of action.
Trivia
The style and design of the round office is very similar in shape and size to Thunderbird 5
The TV show was re-run in 1992 on BBC2 which lead to a shortage of models. Blue Peter, another BBC program, demonstrated how to construct Tracy Island. Blue Peter itself was overwhelmed with request for copies of the instructions.
Image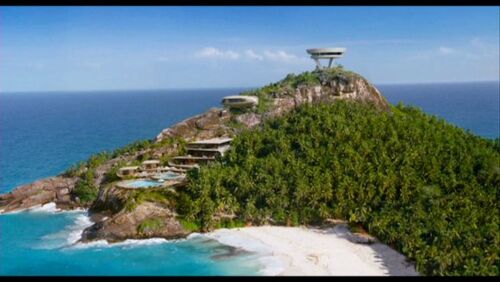 Community content is available under
CC-BY-SA
unless otherwise noted.