Fireball XL1 is one of the many XL spaceships seen in the television series Fireball XL5. The prototype known as 'XL1 Alpha' was first seen in the episode Plant Man From Space whereas the front line design was first seen in The Forbidden Planet. It is normally piloted by Commander Zero and Lieutenant Ninety and is permanently stationed at Space City in case of emergency. It presumably shares many of the capabilities of the other Xl ships.
XL1 Disaster
The XL1 prototype was destroyed in a failed takeoff attempt by Captain Ken Ross. The reason for this was that a space missile with an assumed payload of a Planetomic warhead was heading for earth and no other ships were available to destroy it, so XL1 Alpha was rolled out. XL1 A had been refitted for an ejection equipment test before takeoff but no maintanence had been done to the ship's rocket boosters due to the urgency of the situation. They failed to provide enough lift to clear the launch rail and XL1 Alpha crashed shortly beyond the hill. There was nothing salvagable from the remains but Ross survived thanks to the ejection gear.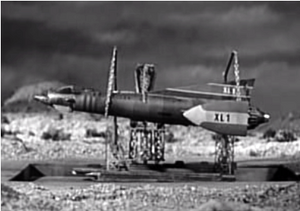 Crew
Captain Ken Ross, was test pilot for Fireball XL1, and captain of Fireball XL7
Community content is available under
CC-BY-SA
unless otherwise noted.